Quality Engineering Roadmap: Your Guide from QA to QE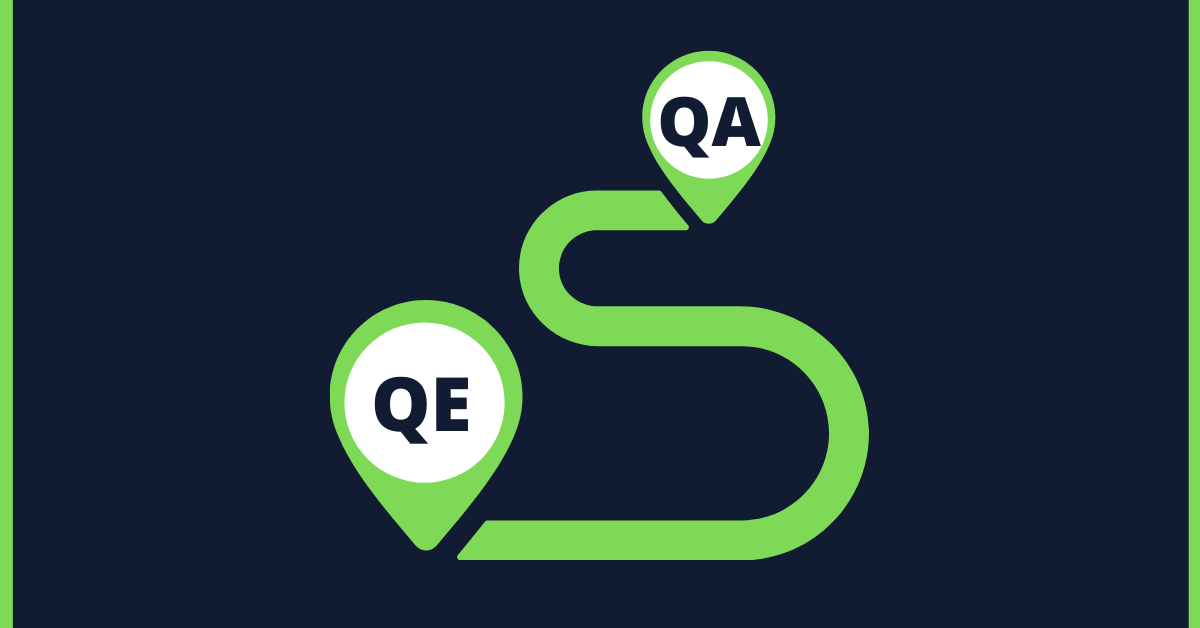 Creating a Quality Engineering Roadmap doesn't need to be so hard. Just follow these steps! 
In our last blog, we walked through how to conduct a Quality Maturity Assessment.
After that assessment, you will have an excellent understanding of where you fall on the Quality Maturity continuum.  From there, you will be able to create a Quality Engineering Roadmap to help usher in a successful implementation of QE within your organization.
Step 1: Conduct a Discovery Review 
The Discovery Output and strategic review of the assessment findings establish the framework for the high-level roadmap with prioritized improvements focused on the key themes and areas of focus through the Quality Engineering journey: 
Quality Leadership/People
Some roles will change more than others, but most every role will require a degree of upskilling.
Methodology/Process
With every department now responsible for Quality, changes to processes and methodology will be critical.
Tools & Technology
Testing activities, particularly test automation and performance testing, will leverage tools and technology much more than previous testing activities.
Metrics & Reporting
With new processes and a greater emphasis on Quality throughout the life cycle, QE leaders will have much more to track.

Step 2: Include the main milestones of the QE Roadmap
The QE Roadmap should be a strategic plan that defines an end goal to include milestones. It should be used as a communication tool that articulates the why behind the goal and the plan for getting there.
Deliberate and timed implementation of improvements will increase the adoption and reduce the likelihood of change fatigue.  The roadmap should be time-scaled view of recommendations from the Quality Maturity Assessment which makes it possible to see if the work is spaced out appropriately to support scheduled delivery.
The roadmap should highlight milestones at 3-6 months, 6-9 months, 9-12 months and beyond to support the goals identified through the assessment based on the priority within the organization.
Step 3: Upskill your team (people matter most!) 
At the end of the day, the "people component" of your Quality Engineering Roadmap will contribute the most to the success of your QE implementation.
Quality Engineering assures high standards during a software development process and that holds true for Agile and DevOps methodologies. The key role in a QE implementation is played by the quality engineers who create, implement, and maintain systems to ensure quality processes.
In general, current roles within an organization will need to evolve to support expanded testing techniques for automation, performance, and security testing.  The role of Software Development Engineer in Test (SDET) is an important role to embed within the team. It's possible you have someone on the team to transition into that role.  If so, great!  If not, looking externally to bring that person in will help ensure a smoother implementation of Quality Engineering principles.   
While leading teams throughout my career I have found test professionals generally align with a technical or a business-focused track when an organization moves to a Quality Engineering capability. There are clear opportunities to upskill current resources to support the transformation objectives.
Technical Focused – Testing professionals in this track may already be supporting automation/performance testing efforts within the team.  An opportunity to extend existing skills sets to support automation initiatives across the software development lifecycle. This can be accomplished by infusing SDET's within the team to support cross training.
Business Focused – Testing professionals in this track understand the business processes for the application/systems they are supporting. There are opportunities to transition their skill set to become a subject matter expert in the application/system they are supporting. This can be accomplished through collaboration and cross-functional knowledge sharing sessions with business resources in addition to expanding their role to support business users.
At tapQA, we have seen a new breed of tester emerge in modern Quality Engineering organizations. We like to call this role the "Humanual Tester." This individual focuses on empathy-based testing, using personas to test through the lens of an end-user, as opposed to mere functional testing with traditional test cases (many of which will now be handled by test automation).  Professionals that choose the Business-Focused path can be trained in areas such as Design Thinking to focus their activities on ensuring end-user satisfaction. With upskilling and refocus, "Humanual Testers" play a critical role in the new Quality Engineering environment!
Often, with change comes trepidation from your team members. This can be mitigated with a strong communication plan as part of your Quality Engineering Roadmap.
A good leader will understand strengths within the team, and identified the training opportunities to support transformation objectives with the following recommendations in mind:
Communicate the Why
Involve key players in the upskill strategy
Honest conversation regarding roles that need to evolve
Turn to the experts in Quality Engineering to build a Roadmap for success!
A transition to Quality Engineering is important for any technology organization. It doesn't have to be difficult!  You don't have to work with a gigantic, intimidating (not to mention expensive) global consulting firm on this initiative.
The "approachable experts" at tapQA will help simplify your quality journey, from helping drive adoption of Quality Engineering, to leading Quality Maturity Assessments, and helping to build a Roadmap for success!  Connect with us today for a free consultation with a Quality Engineering expert.
Michele Clark is an experienced Software Engineering and Technology Leader with 20+ years of hands-on experience managing and overseeing small to large-scale technology projects.  She has held leadership roles at Oracle, GE, Molina Healthcare, and Scientific Games.
She is currently a Principal Consultant at tapQA engaged in supporting the QA to QE transformation strategy for multiple clients.
Our team would love to help!