Quality Engineering in Healthcare: 3 Keys to Happy Customers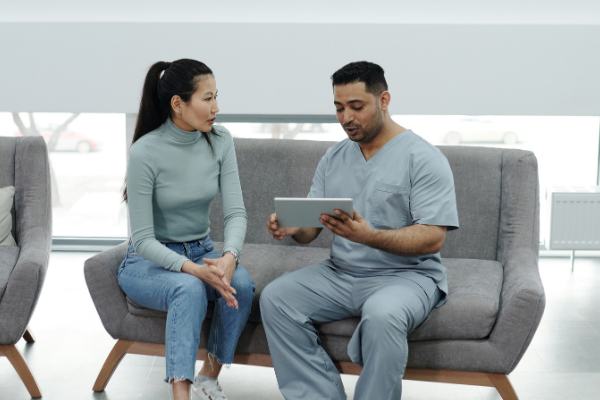 Over the past decade, advances in Quality Engineering in Healthcare have helped create more usable technology products and happier consumers. 
This has been a major boost for the industry, as consumers are becoming increasingly savvier when it comes to managing their healthcare needs.
I recently read a terrific article published by Harvard entitled "A Roadmap to Improve Customer-Centricity in Health Care."  In the article, the author Lisa Ellis explained how many people are becoming active participants in their own healthcare.  Ellis also mentions how, despite many advances, the healthcare field still lags behind other industries when it comes to strategically engaging consumers.
Ellis sites John Quelch, Professor in Health Policy and Management at Harvard T.H. Chan School of Public Health, in what he calls the "five E's" – the five things that consumers want in their healthcare experience:
Experience that will lead to a cure.
Empathy to make them feel that the provider cares.
Efficiency that they won't be kept waiting.
Economy to ensure they are getting fair value.
Empowerment that gives them some degree of choice around their treatment plans.
For those of us in software and technology, we can see a clear connection with the "five E's" and the products the healthcare industry creates for our consumers.  Software and technology can greatly increase our chances that we are meeting these "five E's" and creating a much strong consumer-centered approach.
Of course, with more software products comes more quality challenges.  Healthcare organizations with strong foundations in Software Quality Assurance and Quality Engineering will deliver better, more usable, and more timely products to their consumers, achieving much higher degrees of consumer-centricity.
Here are 3 critical areas of impact for Software Quality Engineering in Healthcare, and how we help ensure happy consumers:
#1 - Ensuring Delivery of What Customers Want
At tapQA, we are big proponents of Design Thinking and what we refer to as "Humanual Testing."  It's a user-centric testing approach to ensure we aren't just "building the thing right", we are "building the right thing."
These empathy-based principles help us test products through the lens of the end-user.  This helps us create products and technology that strive to meet their needs, ensuring maximum usability and satisfaction.
With Healthcare software and technology, there's a vast array of audiences that all have different needs.  As the world becomes more "Amazon-ized", consumers are much more comfortable with doing the research necessary to manage their own healthcare.
To borrow an example from retail, think of years past when you were going to buy a television.  It was a big enough purchase that many consumers felt more comfortable visiting a store to speak with an expert and see the product before purchasing. Today, many consumers have enough information and reviews, and tools like a virtual measurement to ensure a television fits in a room, to make an informed decision without needing to visit a store.
While comparing personal healthcare to buying a television is a little bit "apples to oranges" the example does illustrate how healthcare organizations can best meet consumer needs by empowering them to research and take an active role in their healthcare decisions.
With a patient-centered partnership approach, some burden is removed from the Practioner which frees up time for patients with more severe issues.  It can also cut down on costly overhead for an organization as well.
#2 – Ensuring ALL users are able to access the products we create
The software and technology products we create in healthcare are for a vast number of audiences.  Many audiences have special needs that must be catered to.
The World Health Organization (WHO) statistics show that 15% of the population has a recognized disability such as hearing impairment, color blindness, vision impairment, cognitive disabilities, and more.
For those healthcare organizations that cater to members who are predominantly on Medicare and/or Medicaid, it's important to note that older populations have more people with these recognized disabilities.  Roughly 1 in 2 people over the age of 65 have reduced capabilities.
The Americans with Disabilities Act requires technology and software products to be accessible by people with disabilities – so organizations must keep this in mind when building software in order to be compliant.
As technology improves for those with disabilities, we once again have more platforms such as speech recognition software, screen reader software, and more.  And with more platforms, tools, and devices, the more opportunities there are for defects.
With the advances in telehealth and remote patient monitoring, we are able to keep higher-risk patients out of clinics and hospitals where they are more susceptible to catching viruses.  But many of these patients have recognized disabilities as well, meaning we need to build these systems with patient accessibility in mind.
Simply put, A robust Accessibility Testing strategy is a critical part of any Quality Assurance practice within a healthcare organization!  It allows healthcare organizations to ensure the products they create meet the needs of ALL consumers – and work properly.
A modern QE approach ensures more accessibility testing and more positive outcomes when creating technology products for these patients.
#3 – Ensuring Users have a similar experience, regardless of platform
In years' past, healthcare technology organizations often only had one platform to worry about when it came to building products.  Of course, in recent years, that has changed a great deal.  In 2016, mobile internet traffic eclipsed desktop internet traffic – and that trend is only increasing.
As consumers are increasingly accessing healthcare data, scheduling appointments, and managing their treatment via multiple platforms, QE organizations in healthcare need to expand their reach across multiple platforms. The information coming from legacy systems needs to be accessible by modern technologies and platforms.
Consumers want a similar experience regardless of the device they are using.  They should be able to schedule an appointment or manage their treatment the same whether using a mobile app or while sitting at their desktop.
With more platforms, more things can go wrong!  You don't want to have a well-oiled machine on one platform but then have an incredibly buggy experience on another.  Mature QE organizations can efficiently test across multiple platforms, particularly those with cross-platform test automation.
And once again, different audiences will have different needs across different platforms, which is another great use case for Humanual Testing!
Harness the power of Quality Engineering for your Healthcare organization
tapQA's Healthcare Quality Consultants are industry experts when it comes to Quality Engineering in Healthcare. We are here to help you with bolstering your current Quality capabilities and incorporating strategies to ensure the products you release will result in happy customers.
If you would like to learn more, schedule a free Quality Engineering in Healthcare consultation. We will develop a high-level road map for increasing your capabilities and maximizing your efforts.  Reach out to us today, we'd love to help!
Michele Clark is an experienced Software Engineering and Technology Leader with 20+ years of hands-on experience managing and overseeing small to large-scale technology projects.  She has held leadership roles at Oracle, GE, Molina Healthcare, and Scientific Games.
She is currently a Principal Consultant at tapQA engaged in supporting the QA to QE transformation strategy for multiple clients.
Our team would love to help!